LMI Uni-Dose Pumps are ideal for use as irrigation rust control pumps as well as chlorine pumps and a wide variety of chemical feed applications.

Versatile and Flexible - Available with single or dual output control for easy, accurate adjustment over the operating range. Turndown ratio up to 500:1 provides unmatched flexibility.

Quiet & Reliable - Advanced noise reduction virtually silences the Uni-Dose Pump, making it ideal for residential applications. Totally enclosed, chemically resistant housings provide superior protection in indoor or outdoor application. Efficient solenoid design provides power without troublesome fans, open housings motors or gears associated with motor driven pumps.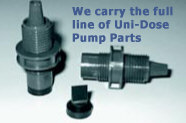 Safe - Inherent pressure relief stops the pump if the system back pressure exceeds the pumps strength. Thermostatic protection prevents damage from overheating.



Standard Accessories - Each Uni-Dose pump comes complete with a priming valve, injection check/back pressure valve, foot valve with strainer, PVC suction tubing, UV resistant PE discharge tubing and a suction tubing straightener. Heads and fittings are constructed of high strength PVC.

Made in the USA !

The U0-281TT Pump Replaces
Model's U0-281 and U0-281TU Series


LMI Unidose Model U0 series, Fixed Stroke electronic metering pump - Brand New, Complete with all parts shown and ready to install.



The U1-281TT Series Pump Replaces
Models U1-281 and U1-281TU Series Pumps

LMI Unidose Model U1-281TT series, Dual output control, Variable stroke frequency - Brand New, Complete with all parts shown and ready to install.

RETAIL: $483.00

ON SALE:

$225.95




U1 Series

GPD -Gallons Per day
12.0 GPD
More Info
24.0 GPD
More Info
30.0 GPD
More Info

To Keep Your Pump Running Smoothly Replace the Following Parts Every 1 to 2 Years:




Drive Assembly Parts Diagram for all Models of Unidose Pumps

NOTICE: Products are shipped Via US Priority Mail and Federal Express unless otherwise requested and that request my incur a higher charge. If Pumps N Parts, LLC is able to ship your products for a lower price than quoted that savings will be passed on to you.